When you want to create a simple change in the garden, stepping stones are an excellent choice. The beautiful stone slabs of the natural stone give the garden a cozy and playful impression as they create eye-catching and adorn your plot. Stepping stones as they are also called, are perfect for you who want a simple walk in e.g. the lawn, the flower bed or on a gravel path of decorative stone. Steppingstones are mounted with small means and smaller inserts and quickly give good-looking results. Stepping stones are also good for you who want more natural stones in the garden without major costs.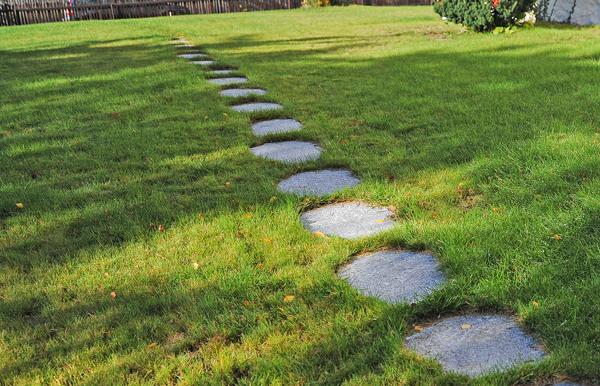 Mount your stepping stones in the garden
Assembly is done by simply placing the stepping stones on the lawn and with a shovel digging out of its contour. Each stone is unique and in some models the stones can vary greatly in both shape and size. Place the stepping stones at sufficiently long intervals so that it feels natural to walk on. 
A rule of thumb is about 4 stepping stones per 2 meter walk. Then dig out of the spade-marked surface where the stone is to lie. Take to the depth so that both the thickness of the stone and a load-bearing layer of sand can fit. Of course, you want the stepping stones to be level with the ground around. A tip is to use stone flour 0-8 or stone chips as a load-bearing layer under the stones to create a smooth and load-bearing surface. 
In the same way, you can also mount your stepping stones in the flower field or the flower bed. Remember that you can always supplement with more steps and build on your garden path over time.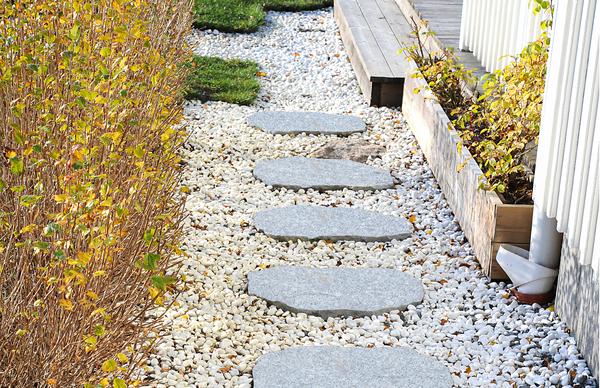 Combine steppingstones in decorative stone or gravel walkway
A gravel walkway often has an incredibly packed surface underneath, this makes installation of the steps relatively simple. Dig out your surface and assess your surface. You want a solid bottom and a surface that does not sink down over time. Simply lay out your stepping stones and scrape away gravel, walkway shingle or the decorative stone that is already lying around . This is a harmonious garden path and a clear walkway, in the middle of your gravel path.
Other fun tips you can do with steppingstones
You can also use our steppingstones for crafts. A do-it-yourself tip is to make a table with these natural stone tiles. Use a good glue to attach table legs to the underside of your stepping stone. Table legs are available for purchase in many stores. As our steppingstones are naturally designed, these give a stylish look and a perfect storage table in the conservatory. You can also use stepping stones as a serving dish and as a base for decoration. Here only your imagination sets limits!
Cast a stepping stone in concrete – simple and fun
Are you looking for a concrete stepping stone? Maybe you also have a creative vein and are curious about casting your own? Concrete is a fantastic material and fun to use for various do-it-yourself projects. Casting your own stepping stone is also very easy. Use our fine concrete to your advantage , it gives your stepping stone a smooth and attractive finish and good tightness. If you choose rough concrete, your steps will have a very rough and rustic surface. Then you can choose to use a concrete form of, for example, rubber in different forms and with possible patterns, or make your own form to your liking and taste.